Sector:
State Government
Situation:
The central IT agency of the state sought to re-procure infrastructure and application services in a multisourcing approach that takes full advantage of a Multisourcing Services Integrator (MSI) model. The state was seeking a next-generation Shared Technology Services offering to customers that fully integrate private cloud, public cloud, enterprise architecture, and applications within a single program. The vision was to provide customers with the full scope of technology services in a secure, reliable, contemporary delivery model that meets business requirements at competitive prices. The addition of application services and customer technology advisory services to the historically infrastructure-only program enables a one-stop-shop for legacy modernization, DevOps, and cost optimization to shift spend from run to grow/transform.
Symbio Support: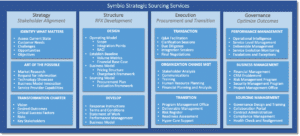 Symbio leveraged our Strategic Sourcing Services framework illustrated above to facilitate this complex initiative. Members of our team have provided sourcing advisory services on several large state government outsourcing programs, including Georgia, Virginia, and Texas. Although the state had previously contracted for market research and RFP development, upon award of the procurement assistance and transition support scope of work, Symbio worked with the client to flesh out the strategy. This critical step led to the realignment (redrafting) of the requirements of each of the six RFPs with the Vision, Desired Outcomes, and market capabilities. This necessary but unanticipated first step did impact the timeline initially. However, Symbio and the state worked together to accelerate the process and preserve the requisite amount of time for a successful transition.
Critical innovations from the Symbio methodology that helped facilitate the successful procurement of $1.6 billion in technology services across the six RFPs include:
Digital Collaboration – Complex technology procurements require agility, but the core disciplines underpinning project management (planning, tracking, reporting) are critical. At Symbio, we've developed a digital collaboration toolkit with tracking templates and KPIs that focus attention on what matters.
Build Relationships – We take the time to know the stakeholders, including the members of the client executive steering committee, and what's meaningful to each of them. We leverage stakeholder forums for key decisions, setting expectations, and honoring differences among the stakeholders.
Follow the Money – With complex technology transformations, the financial business case tells the story. The cost drivers in the solution trace back to a Service Provider's interpretation of the requirements in the SOW. The risk premium can be teased out by the exceptions to the MSA. The assumptions reveal what's missing. Our methodology is designed to ensure alignment between the requirements, terms, and financials and to eliminate gaps and overlaps in the solution and pricing.
Symbio Staffing:
We are more than just sourcing advisors with state government experience. As specialists in the design and integration of technology supply chain ecosystems, we believe understanding and having experienced practitioners in the various domains within the ecosystem is critical. Our emphasis is on creating an executable, agile operating model, not just a commercial framework. For this Shared Technology Services Transformation engagement, our team included: 1. a Project Director (MBA, PMP, ITIL) with over 15 years of sourcing technology services as a buy-side Sourcing Director and as a third-party Advisor, 2. a Solution Director (MBA, ITIL) with over 25 years of experience, including as CIO, COO, and CTO, 3. a Commercial Director (MBA, ITIL) with 25 years-experience sourcing technology services, 4. a Financial Advisor (Masters in Accounting, CPA) with 20 years of experience in outsourcing financial modeling and bid analysis with experience and expertise in state government finance, 5. a Senior Advisor (ITIL) with more than 20 years of technology services experience, with expertise in cloud computing, digital data center strategies, and sourcing advisory services, 6. a Senior Advisor (ITIL) with 20 years of experience delivering, governing, and sourcing technology services, and 7. an Infrastructure Subject Matter Expert with 30 years of experience and deep technology expertise in private and public cloud services, network, and mainframe.
Client Impact – Solution:
All six of the RFPs are replacing existing contracts that expire on the same date. Over ten months, Symbio facilitated the completion of requirements for six RFPs, the evaluation, clarification, integration with the MSI, due diligence, and contract negotiations for four of the six contracts. The remaining two contracts required less transition time and completed final negotiations several months in advance of Commencement. Our ability to shepherd these procurements to successful outcomes required experience, agility, communication, relationship alignment, and a focus on the essentials. The timeline and facilitation of this complex multisourcing initiative were uninterrupted by the COVID-19 pandemic. The parties finalized negotiations, conducted transition planning, and facilitated the successful transition of services on a remote working basis.
The new services ecosystem includes: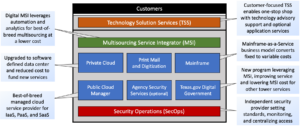 Private Cloud: An on-premise compute, storage, and WAN service delivered through a software-defined data center (SDDC) to enable flexibility, scalability, and speed.
Public Cloud Manager: A cloud services expert partner with expanded capabilities to leverage cloud services with technical and security assurance.
Technology Solution Services: An enterprise architecture, solution design, and customer technical advisor service provider focused on strategy and modernization.
Security Operations: An independent expert provider setting program security policies/standards, providing centralized access management, monitoring, and vulnerability analysis.
Mainframe: A lower-cost, true consumption-based mainframe-as-a-service with improved processing resiliency and technical currency.
Print, Mail, and Digitization: An evolved service model to enable as-a-service pricing and performance delivery, new digital services, and increased capacity.
Client Impact – Results:
With facilitated support from Symbio, the state achieved the operational and financial objectives in a highly competitive procurement facilitated within the RFP timeline dates. The key features of the next-generation service include:
Modernization: Service innovation and legacy modernization services to reduce security risk, improve quality of service, and lower run cost.
Agility: Deploy and support IT services to enable customers to meet business objectives on time. Enhanced flexibility to deliver new services that meet business demand with a dynamic and rapidly provisioned infrastructure stack that supports agile development.
Reliability: Provide consistent and secure delivery of services with an integrated security framework and standards across the enterprise. Reduced risk through standard technology stack and auto-identification of issues and self-healing.
---