Sector:
State Government
Situation – Business Issue Statement:
The central IT agency for the state sought to evolve the official website of the state. This Digital Government constituent platform provides portal and payment services for state agencies and eligible local governmental organizations, enabling them to conduct online business with their customers. Each month the site processes more than two million transactions averaging over $120 million. The state was in a public-private partnership (P3) for the portal and payment services and sought to move to a multisourcing model that provided operational and financial transparency.
Symbio Support:
Symbio has developed many innovative approaches to sourcing complex technology services in state government that have led to substantial improvements in services, governance, and outcomes. Our methodology leverages the following framework: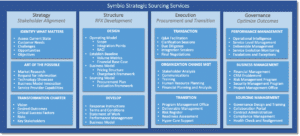 Immediately upon establishing the strategic framework and creating the sourcing charter, Symbio designed the requirements framework: the operating model, performance model, and business model frameworks. Through a review and iteration process with the client, we finalized the structure. We began construction of the request for proposal (RFP), efficiently leveraging Symbio templates for the development of the core requirements. We provided full support facilitating the sourcing transaction through final negotiations and supported the client through transition and post-Commencement governance. Critical innovations from the Symbio methodology that helped facilitate this business transformation include:
Leverage Templates – Templates save time. Our sourcing kit includes full RFP contract templates as well as data gathering, business case model, project plan and reporting, RAID log, QA checklist, evaluation forms, transition milestone framework, and others.
Gaps and Overlaps – Symbio-facilitated Integration Sessions identify gaps and overlaps with existing services in the Respondent solution. Common areas of overlaps are tools and cross-functional services (e.g., service desk, reporting, customer relationship).
Minimum Viable Innovation – The Lean Startup movement has popularized the minimum viable product (MVP) concept to maximize return on investment relative to risk. We leverage this approach during negotiations, modifying the deployment of innovation by releasing lighter versions of change to gather learnings on how the elements engage and impact outcomes – allowing for iteration to meet user needs.
Symbio Staffing:
For this Digital Government engagement, our team included: 1. a Project Director (MBA, PMP, ITIL) with over 15 years of sourcing technology services as a buy-side Sourcing Director and as a third-party Advisor, 2. a Solution Director (MBA, ITIL) with over 25 years of experience, including as CIO, COO, and CTO, 3. a Commercial Director (MBA, ITIL) with 25 years-experience sourcing technology services, including pricing outsourcing services as a Service Provider and facilitating sourcing agreements as an Advisor, 4. a Financial Advisor (Masters in Accounting, CPA) with 20 years of experience in outsourcing financial modeling and bid analysis with experience and expertise in state government finance.
Client Impact – Solution:
The solution included:
Technology and Operations – Provide centralized data center operations, cloud compute enablement, management of applications, maintenance, quality assurance, and security.
Application Development – Build online services that feature plain language, 100% accessibility, and a mobile-optimized design,
Customer Service, Marketing, and Analytics – Provide 24/7 assistance to constituents and state agencies and receive site and transactions analytics for online services used in establishing best practices for improved adoption of the portal services, and
Payment Services – Provide secure, Payment Card Industry (PCI) compliant payment products that provide online and over-the-counter payment for government entities.
The solution includes services provided by three service component providers (applications, payment, infrastructure) leveraging the cross-functional integration services of the MSI. This approach allowed the state to add a new shared service to the MSI service ecosystem, reducing the MSI cost to existing customers while raising the service management maturity of the Digital Government program.
Client Impact – Results:
The state achieved the operational and financial objectives in a highly competitive procurement facilitated within the RFP timeline dates. The key features of the service include:
Business Model: A fundamental change moving from a revenue-sharing public-private partnership (P3) to a more traditional revenue-funded sourcing model with a significant reduction in cost, more control over investment decisions, and transactional transparency.
Operating Model: A new operating model designed to achieve the overall program objectives through a multisourcing model that leverages the capabilities of a Digital MSI that provides operational transparency.
Digital Government Assistant: A mobile application personalized to anticipate citizen needs and facilitate a secure, convenient, and efficient customer experience that will transform how citizens engage with government.
View/download our Symbio Digital Government Case Study.
---